What is an Ai Image Generator and Why They Are so Popular
AI image generators have been causing quite a buzz lately, and it's easy to see why. But if you're wondering what they are and why they're so popular, you're not alone.
AI image generators are programs that use artificial intelligence to create images.
They've been trained on millions of photos and have learned to identify and generate images based on these training data. Some of the notable AI image generators include Dall-E 2, Stable Diffusion, and Craiyon​​.
For instance, Stable Diffusion is one of the most powerful AI image generators currently available.
It is open-source, meaning anyone can use it in their projects. It allows users to control the entire image generation process and fine-tune many parameters.
One of the fun features of Stable Diffusion is "img2img" where you can give it an image as a prompt, describe what you want the image to be, and let the generator do the rest​​.
Now, you might be wondering why these AI image generators are so popular.
Their popularity can be attributed to their ability to generate unique and interesting images based on user prompts.
Artists and designers can use them to quickly generate concepts or ideas, while others might use them for fun or to generate unique profile pictures or avatars.
So, as you have understood what AI image generators are, it's time to find out the best AI image generators that can help you with AI art generation.
Best AI Image Generators
AI image generators are game-changers, enabling individuals and businesses alike to produce high-quality AI art in minutes.
While there are several options, not all AI image generators are created great. The top contenders—like DALL·E 2, Midjourney, and Stable Diffusion—offer unique capabilities and advantages that set them apart from the crowd, however, there are lot of other AI image generators that offer many features too.
In creating this list of the best AI image generators, we had a few crucial factors in mind:
The AI's ability to generate images from a text prompt.
The independent functionality of the AI image generator.
The ease of use & customization options
So without further ado, let's check our our list of the best AI image generators:
| AI Image Generator | Key Features | Pricing |
| --- | --- | --- |
| DALL·E 2 | User-friendly, AI-generated image variations, Familiar interface | 50 free credits upon signup, 15 free credits/month, 115 additional credits for $15, API pricing from $0.016/image |
| Bing Image Creator | Integrated with Bing Chat, High-quality results, No platform switching | Free |
| NightCafe | Array of art styles, Credit-based system, Active community | Free: 30 credits/month, AI Beginner: $5.99/month (100 Credits), AI Hobbyist: $9.99/month (200 Credits), AI Enthusiast: $19.99/month (500 Credits), AI Artist: $49.99/month (1400 Credits) |
| Runway ML | User-friendly, Variety of AI models, Built for creators | Free: 120 Credits, Standard: $15/month (625 credits), Pro: $35/month (2250 credits), Enterprise: Custom |
| Artbreeder | Unique breeding system, Communal game of creation, Control over visual attributes | Free: 10 credits/month, Starter: $8.99/month (100 credits), Advanced: $18.99/month (275 credits), Champion: $38.99/month (700 credits) |
| DeepAI | Transforms photos into artwork, Style transfer focus, Unique patterns | Free, DeepAI PRO: $4.99/month (500 generator calls), Pay as you go: Starting at $5 (100 generator calls) |
| Fotor | Photo editing and graphic design, Advanced editing features, Design module | Free, Fotor Pro: $8/month, Fotor Pro+: $19.99/month |
DALL·E 2 is an amazing AI image generator from OpenAI, the makers of the well-known language model, ChatGPT. For those looking for the best AI image generation, DALL·E 2 stands out for its exceptional simplicity and affordability.
Although its results may not be the most photorealistic, its ease of use makes it a top choice for beginners.
It offers an extremely user-friendly process. Simply sign up for a free OpenAI account, type in your desired prompt, and click Generate.
In mere seconds, you're presented with four distinct AI-generated image variations to choose from. If you've ever used ChatGPT, the interface will be familiar and comfortable.
When it comes to pricing, DALL·E 2 offers a fair deal. Upon signing up, you get 50 free credits with 15 additional credits added to your account each month. Each credit allows you to create four image variations from a single prompt.
If you find yourself needing more, packs of 115 credits can be purchased for $15, breaking down to roughly $0.13 per prompt or $0.0325 per image variation.
Pricing: 50 free credits upon signup, plus 15 free each month. Packs of 115 additional credits are available for $15. API pricing starts from $0.016/image.
Microsoft has created an excellent AI image generator called Bing Image Creator.
It's powered by a more advanced version of the DALL-E model, promising the same or even higher quality of results.
The convenience and accessibility it offers make it an appealing choice.
Bing Image Creator eliminates the hassle of switching between platforms.
With your Microsoft account, you can easily access the image generator on the same platform where Bing's AI chatbot, Bing Chat, is available.
The image generator can even be directly accessed through Bing Chat. Simply ask it to create an image based on your desired prompt, and voilà, your image is ready.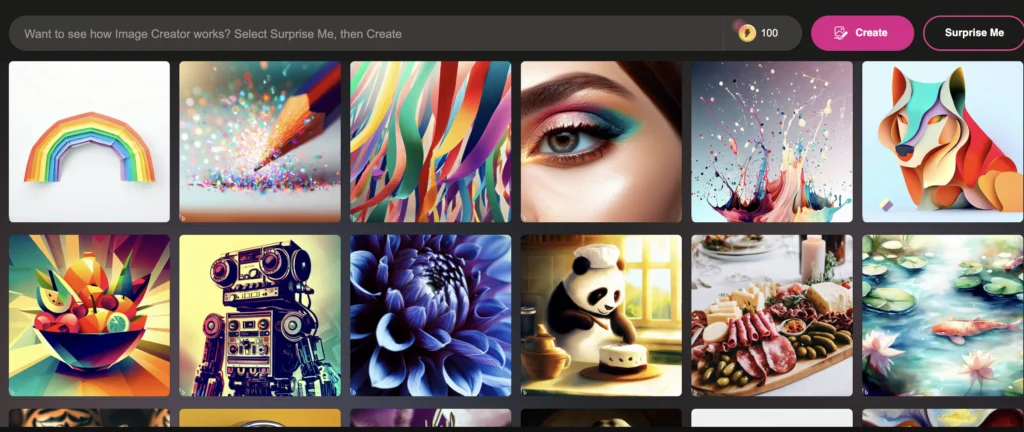 This seamless integration of tools under one umbrella makes Bing Image Creator one of the best AI image generator on the internet.
The best part about Bing Image Creator is its free accessibility.
All you need to get started is a visit to the website and a sign-in with your Microsoft account.
Pricing: Free.
If you're looking for an AI art generator that offers an array of art styles and options, NightCafe is a name to remember.
It stands out for its user-friendly interface, a credit-based system, and an active community that you can engage with.
NightCafe is particularly appreciated for the control it gives users over the image generation process. The best part is you are the sole owner of the content you create on NightCafe.
You can do whatever you want with it – share, sell, print. It's all yours!
The pricing of NightCafe is based on a credit system. The free package gives you 30 credits per month. Each image generation costs 2 credits, and creating a video costs 5 credits.
Pricing:
AI Beginner: $5.99/ month (100 Credits)
AI Hoobyist: $9.99/ month (200 Credits)
AI Enthusiast: $19.99/ month (500 Credits)
AI Artist: $49.99/ month (1400 Credits)
Runway ML is a robust AI image generator built for creators and artists. It stands out due to its ease of use and user-friendly interface, even for those with no coding experience.
It offers a variety of models, including StyleGAN and BigGAN, that can generate high-quality images based on your specific prompts.
The pricing for Runway ML varies depending on your needs. They offer a free tier, which includes limited processing power and access to pre-trained models.
For more demanding projects, they offer different subscription plans that come with increased processing power and advanced features.
Pricing:
Free: 120 Credits
Standard: $15/ month (625 credits)
Pro: $35/ month (2250 credits)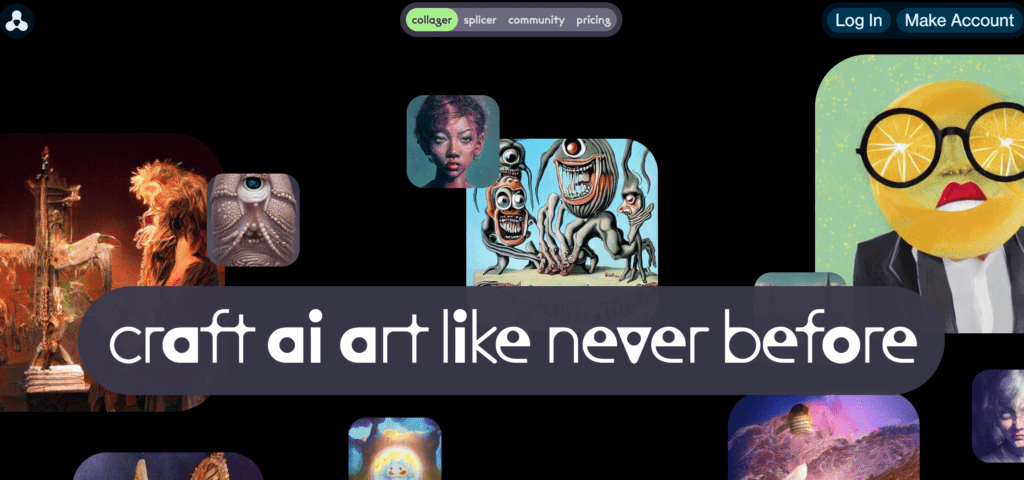 Artbreeder is another unique AI image generatior that allows users to blend and create images like genetic crossing, resulting in unique AI-generated artwork.
Artbreeder sets itself apart with its breeding system, which enables the creation of an entirely new image by merging two or more parent images.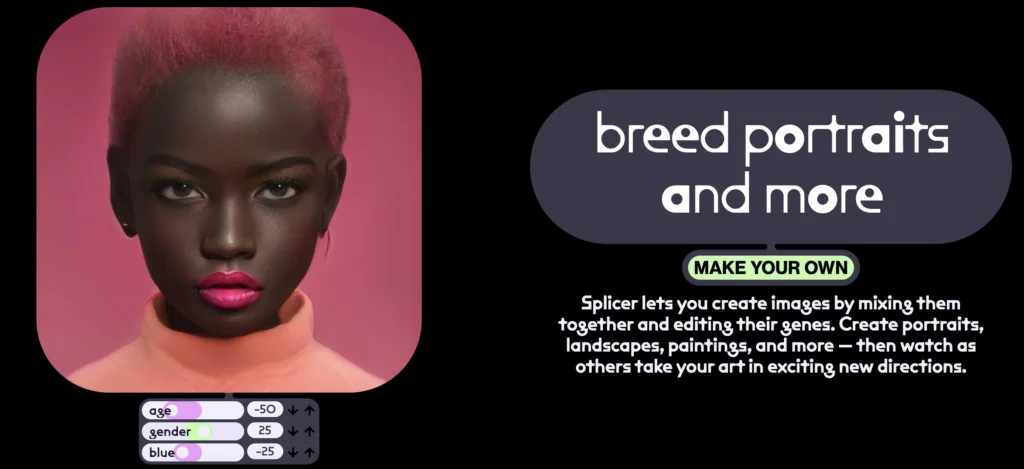 You can adjust individual genes, represented by different visual attributes like color or shape, to control the final outcome.
It's like a communal game of creation where millions of images from users worldwide are available for breeding.
Artbreeder is free to use but comes with limitations on the number of images you can create and download. You can opt for one of their subscription plans for increased usage and additional features.
Pricing:
Free: 10 credits/ month
Starter: $8.99/ month (100 credits)
Advanced: $18.99/ month (275 credits)
Champion: $38.99/ month (700 credits)
DeepAI is an AI art generator that transforms photos into artwork based on styles of famous painters or unique patterns.
It's a fantastic tool for those looking to transform ordinary images into extraordinary art pieces.
DeepAI's unique selling proposition lies in its focus on style transfer. You upload a style image (a painting, pattern, or any picture) and a target image.
The AI then applies the style of the first image onto the second, producing an artwork that reflects the style image's aesthetics while preserving the target image's structure.
DeepAI offers both free and premium options. The free option gives you access to the AI tools but with watermarked results and slower processing times.
Pricing:
DeepAI PRO: $4.99/month (500 generator calls)
Pay as you go: Starting at $5 (100 generator calls)
Fotor is a powerful online photo editing and graphic design tool. While not a specific AI art generator, it boasts a host of advanced editing features, enabling users to transform ordinary photos into stunning visual content.
Fotor distinguishes itself with an impressive range of features.
These include basic editing tools like cropping, adjusting brightness, contrast, and saturation, to more advanced options such as photo effects, HDR, and beauty retouching.
One unique feature is its design module, where users can create graphic design content like posters, banners, and social media posts using professionally designed templates.
Fotor operates on a freemium model. The free version gives you access to basic editing and design tools. For more advanced features like ad-free editing, exclusive resources, massive storage, and priority support, Fotor offers a Pro version.
Pricing:
Premium Plans
Fotor Pro+: $19.99/ month
Credit Plans
FAQ: Best AI Image Generator
Are AI Image Generators Free to Use?
Most AI Image Generators operate on a freemium model, providing a basic set of features for free and offering more advanced features and capabilities for a fee. Some, like Bing's Image Creator, are entirely free to use. Others, like DALL·E 2 and NightCafe, offer a certain number of free credits each month, with the option to purchase additional credits.
Can I Use the Images Created by These AI Image Generators for Commercial Purposes?
The commercial use policy varies across different AI Image Generators. Some, like Midjourney, grant commercial usage rights under their paid plans. However, it is essential to check the terms of use of each tool before using the generated images for commercial purposes.
After using the above AI image generators, it's time to try and test these prompts in order to create and experiment with AI generated artwork: